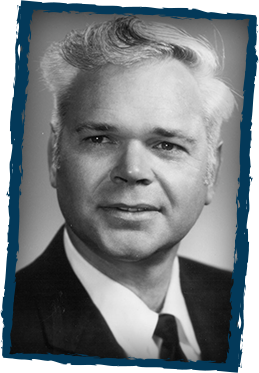 Like many of his peers in the late 1950's, Ron Fraedrick dreamed of owning and operating a successful hometown business. Ron, a World War II Navy veteran, understood the dedication and sacrifices required to make a dream reality. So, with a passion to succeed driving his efforts, he went about building the foundation for what is one of today's leading Mexican fast-food enterprises.
After graduating from the University of Oregon in 1959, Ron traveled throughout the West selling petroleum products to a rapidly growing post-war economy. It was in Southern California that he first fell in love with Mexican food and conceived the idea of feeding a different kind of hunger; one that involved preparing and serving his own style of fresh, high-quality Mexican fast food to the hordes of hungry college kids back in his home town, Eugene, Oregon.
To fund his dream, Ron did what most young entrepreneurs have to do - he mortgaged the family home and borrowed an additional $5000. That was in 1959, and in 1960 his dream became reality when he opened his first walk-up TacoTime restaurant adjacent to the University.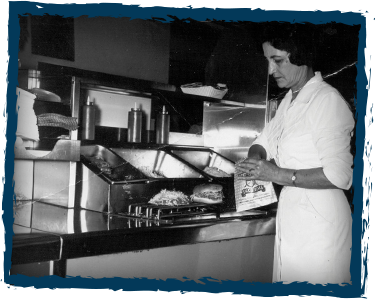 Ron spent many evenings working on his secret seasoning and hot sauce recipes to develop the perfect taste profile. He would mix and measure just the right amount of spices into a 55 gallon barrel, rolling it around in the parking lot to thoroughly blend all the flavors, and then portioning the mixture into paper bags. Later, when Ron opened his second restaurant, he purchased a electric cement mixer to provide mixing muscle.
For the take-away orders, the fresh made hot sauce was poured into little plastic cups, and then the staff would cap each with a tight-fitting lid. A tedious process, and one in which Ron would engage his children's support to perform whenever possible. In short order Ron had three local restaurants open which were all successful. The unique taste and success of TacoTime began to attract interest from other entrepreneurs wanting to duplicate Ron's success.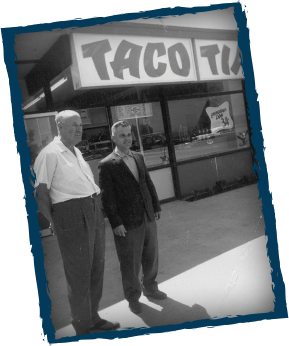 In fact, that's the story behind the first TacoTime franchised restaurant. A business acquaintance loved TacoTime food so much he teamed up with Ron to begin franchising the concept in the Western Washington area. So, in 1962, just two years after the company's initial debut, the first TacoTime franchise opened in Tacoma, Washington.
During the next decade, 48 franchised TacoTime restaurants opened throughout seven western states. As the 1970's came to a close, the company supported over 150 locations. In 1978, Taco Time International, Inc. was born when a franchise restaurant opened in Lethbridge, Alberta, Canada.
By the end of the century, some 40 years from its humble beginnings in Eugene, Oregon, Taco Time International, Inc. supported locations in both the U.S. and Canada.